Toshiba E-Studio 3508LP
November 3, 2017
Toshiba Introduces World's 1st Copier with Erasable Toner and Black & White Prints – e-Studio 3508LP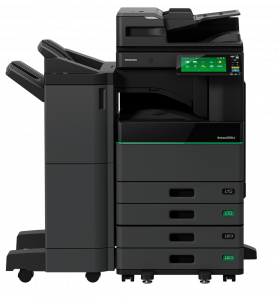 OE Canada Inc. is pleased to introduce the world's first hybrid copier capable of producing erasable as well as standard monochrome prints. Thanks to the unique Hybrid printing technology, one single device can output black and white as well as reusable prints, which saves paper.
Featuring Toshiba's proprietary erasable toner, the e-STUDIO™3508LP enables paper reuse by erasing all printed content on the page. Aside from optimizing sustainability initiatives, the e-STUDIO3508LP allows organizations to function more affordably and efficiently while minimizing paper use.
Content produced using the hybrid copier's blue toner is erased by simply loading pages into a designated cassette or the bypass tray and pressing the Erase button on the e-STUDIO3508LP's front panel. Content may also be erased using the optional paper reusing device, the e-STUDIORD301, which also scans and files documents and sorts reusable paper.
"In today's competitive and environmentally-conscious landscape, Toshiba demonstrates strength in innovation with the launch of its e-STUDIO3508LP, the industry's first hybrid MFP that prints in both black and white and erasable blue," Valerie Alde-Hayman, industry analyst at gap intelligence. "This new technology evolves Toshiba's hybrid MFP line and will enable a wider range of customers to reduce their environmental impact while also maintaining access to standard monochrome printing."
Toshiba's hybrid copier's rules-based printing feature enables users to select toner setting defaults based on the application. Now printing temporary items, such as emails or documents for proofreading, may be designated in erasable toner (at 35 pages-per-minute) to conserve paper. While more permanent documents such as receipts, insurance and on-boarding forms may be designated for monochrome output (at 35 pages-per-minute). Additionally, the product's e-BRIDGE™ Paper Reuse Report summarizes paper reduction and provides additional insight into an organization's environmental impact.
"The introduction of our hybrid copier helps organizations operate in a more ecologically friendly manner," said Bill Melo, Toshiba America Business Solutions chief marketing executive. "Rather than simply recycling paper used to print temporary documents, organizations are now able to erase and reuse that paper with the touch of a button."
ABOUT OE CANADA
OE Canada is locally owned and operated with over 45 years of experience in the Canadian office equipment industry. We are an office technology services company focused on solving today's and tomorrow's business challenges for our clients as they relate to office print management, document management and business process improvement through our suite of software and product offerings. OE Canada is committed to providing superior products and services that will help organizations large and small, obtain the best possible solution for their office communication and document needs.
As a family owned enterprise, we are the largest Toshiba office products independent dealer in Canada and also represent Lexmark, HP and Docuware amongst some of our diverse product and solution offerings. Our head office is located in London, Ontario and we have an office located in Waterloo to service our account territory.
We value our relationships and ensure our team is available and ready to respond to your needs and questions. With nearly 30 sales and admin staff along with 20 technicians, OE Canada has the skills and expertise to serve your needs.
For more information, please contact:
David Smith
dsmith@oecanada.com
www.oecanada.com
ABOUT TOSHIBA CORPORATION
Toshiba Corporation, a Fortune Global 500 company, channels world-class capabilities in advanced electronic and electrical product and systems into three focus business fields: Energy that sustains everyday life, that is cleaner and safer; Infrastructure that sustains quality of life; and Storage that sustains the advanced information society. Guided by the principles of The Basic Commitment of the Toshiba Group, "Committed to People, Committed to the Future", Toshiba promotes global operations and is contributing to the realization of a world where generations to come can live better lives. Founded in Tokyo in 1875, today's Toshiba is at the heart of a global network of 550 consolidated companies employing 188,000 people worldwide, with annual sales surpassing 5.6 trillion yen (US$50 billion). (As of March 31, 2016.)